Australia live news update: Albanese meets King and British
Australia won't be banning Russian tourists: Marles
Marles also won't be drawn into making calls for Russia to leave Crimea and restore Ukraine's border to where it stood in 1991, saying only that the Ukrainian government must be "empowered" to determine its future "on its own terms".
Marles is also asked about whether Australia will follow other countries and prevent Russian tourists from entering the country.
We have a range of sanctions in place and the focus of our sanctions is on the Russian government, those who are perpetrating what has happened in relation to Ukraine, not focused on the Russian people themselves, so this is not something we are considering at the moment, but we are very much a part of the global base of sanctions against the Russian regime.
Similar visa bands in Europe have been contentious with critics charging that their implementation binds the Russian people closer to the Russian government by cutting off avenues of escape from crackdowns on dissent.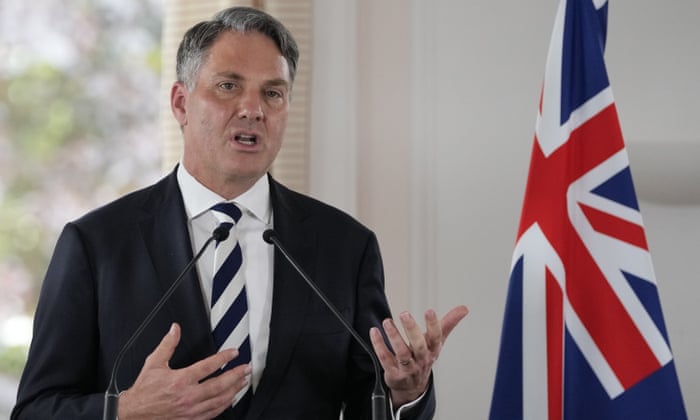 Key events
On Melbourne's Nicholson Street – also home to another northside landmark, the 96 tram – is one of the city's most beloved institutions. An embodiment of this great town. Not a building but a whole personality.
Triple R is a community radio station that has, since its origins at RMIT in 1976, done exactly what it says on the box: been part of the community.
Clem Bastow, Christos Tsiolkas and Casey Bennetto are Superfluity, punching earholes on 102.7 FM and online from 8pm every Tuesday. This year they broadcast their 500th episode after 12 years on the air. An astounding feat by anyone's standards, but also testament to how large this station has loomed in their lives for decades.
Bastow says:
We call it community radio because someone at some point was like, the community puts this radio station to air. But what I take from it is that it's radio that provides a sense of community, too.
Read the full story from Anna Spargo-Ryan here:
NZ museum returns Indigenous Australian artefacts to country
A New Zealand museum will return six Warumungu objects to their traditional owners in the Northern Territory more than a century after they were first taken, AAP reports.
The objects include a kalpunta (boomerang), palya/kupija (adze) and a selection of marttan (stone knives).
They were originally acquired in Tennant Creek the 18th or 19th century by telegraph station master James Field and British-born anthropologist Baldwin Spencer, and came to the Tūhura Otago Museum through exchanges with Museum Victoria and anthropologist Frederick Vincent Knapp.
Senior Warumungu man Michael Jones thanked Tūhura Otago Museum for its response:
Them old things, they were carved by the old people who had the songs for it, too. I'm glad these things are returning back.

The museums are respecting us. They weren't the ones who took them, they just ended up there.

We can still teach the young people now about these old things and our culture.
The Australian Institute of Aboriginal and Torres Strait Islander Studies's Return of Cultural heritage team initiated consultation between Warumungu elders and the museum's Māori Advisory Committee to discuss the return of the items.
Aiatsis CEO Craig Ritchie said the RoCH program was giving a voice to originating communities in how their heritage is managed in collections outside of Australia:
Storytelling is integral to the transmission of our cultural knowledge.

We don't want to lose track of such storytelling aids, and our communities want a say in how they are used.
The Warumungu community has indicated that a selection of the returned objects will be displayed at the Nyinkka Nyunyu Art and Culture Centre in Tennant Creek.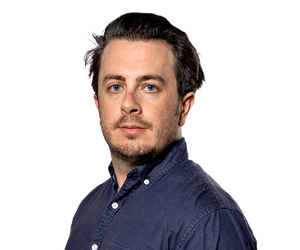 Josh Butler
Albanese meets with British PM Liz Truss
Anthony Albanese has also said he looks forward to working with new British prime minister Liz Truss on addressing climate change and issues in the Pacific, after his first meeting with the new leader.
The Australian PM met Truss overnight, for their first meeting as respective national leaders. Albanese said the relationship between Australia and the United Kingdom was "a critical one", noting the Aukus military pact and the pending free trade agreement.
Albanese said:
It is important that the trade agreement be finalised and ratified between Australia and the United Kingdom. But I had a discussion with prime minister Truss last Friday to express Australians condolences to her.

That is good that we start off having built a relationship, initially, by both of us having a platform there to talk about national security, and indeed security around the globe. We share a support and commitment to the international rule of law.
Albanese also welcomed Britain's engagement in the Pacific.
The United Kingdom has been a leader as well in acting on climate change. When I spoke with former prime minister [Boris] Johnson, he very much welcomed Australia's commitment under my government to acting on climate change and I know that prime minister Truss is very conscious of that as well.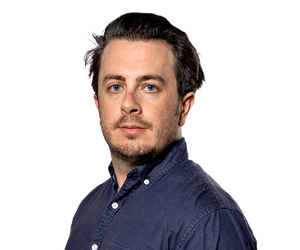 Josh Butler
Albanese releases details of Queen's national memorial service in Australia
Anthony Albanese shared new details of the national memorial service to Queen Elizabeth, which will be held this coming week as soon as he returns from London.
The prime minister is in the UK for the Queen's funeral, and overnight visited her lying in state at Westminster and met King Charles at Buckingham Palace. He will arrive back in Australia on Wednesday, ahead of the memorial service in Parliament House and the public holiday on Thursday.
In a Sky News interview on Sunday morning, Albanese detailed what would occur at the service. Melissa Doyle, the former Sunrise host on Channel Seven, will be the MC for the service, Albanese said, while singer Anthony Callea will perform at the event.
Albanese said:
It will bring together each of the premiers and chief ministers, they have all confirmed their attendance, as well as the governors from their respective states, as well as leaders of the judiciary, including all of the justices of the High Court, as well as federal members and senators.

Myself and Peter Dutton, as leader of the opposition, will both give short tributes to Queen Elizabeth. It will be an opportunity to mourn as a nation as well.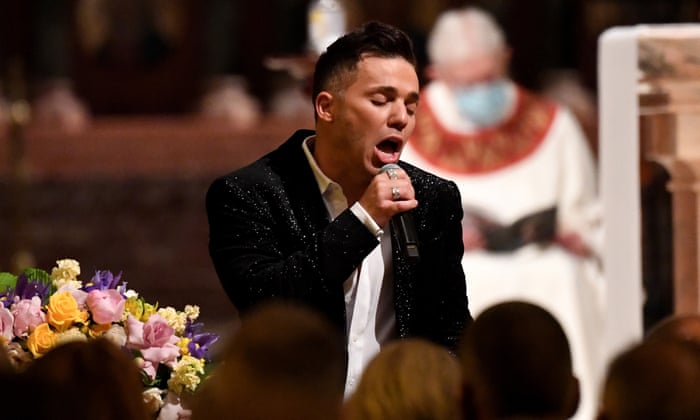 NSW Labor promises more paramedics ahead of election
More paramedics who can do more things are part of NSW Labor's election pitch as it seeks to wrest power from the Coalition government for the first time in 12 years, AAP reports.
Labor has announced a $150m commitment for another 500 paramedics in rural and regional areas in its first term if elected.
Opposition leader Chris Minns said consultation would determine where paramedics are needed, and they would be upskilled for intensive and extended care roles that would hopefully ease pressure on emergency rooms.
Minns said on Sunday:
The NSW system cannot cope with another four years of Band-Aid solutions, it requires serious repair.
The announcement is only the beginning of the "long-term, structural repairs" his party will take to the March election, he said.
Labor's health spokesman, Ryan Park, said regional paramedics desperately need a resources injection to fix shortages that are pushing the ambulance network to its limit:
It's like going to work with one hand tied behind your back…

A Minns Labor government will begin the task of repairing that.
No free trips as NSW blocks deactivation of Opal readers to stop industrial action
The NSW government is headed to court in a bid to block union plans to deactivate Opal readers at train stations as part of an ongoing industrial stoush, AAP reports.
A section 418 application has been lodged in the Fair Work Commission to have the "destructive action" to turn off or short circuit the machines from Wednesday declared unprotected, transport minister David Elliott said.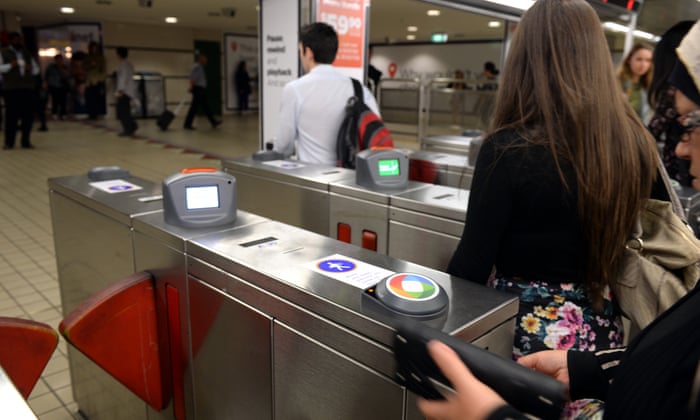 The move follows legal advice received by the government that the proposed action is prima facie unlawful, he said in a statement on Saturday:
Sydney Trains and NSW Train Link believe the notified action is also unsafe and could cause financial impacts on commuters.

The submission comes after the [Rail, Tram and Bus Union and others] rejected a number of formal requests from transport officials to withdraw the action.
Elliott said the matter was expected to be heard within 48 hours.
The union plans to leave station gates open as it did last month but this time the Opal readers will also be deactivated, preventing commuters tapping on, rather than giving them an option not to.
Not all stations have gates, although the action will also deactivate stand-alone payment poles at suburban stations.
The Opal system is operated by a private company and Elliott said on Thursday he planned to seek advice on whether the union action would result in the government having to pay any penalties under its contract.
The RTBU is among unions that recently took Sydney Trains and NSW TrainLink to the Fair Work Commission in a bid to keep negotiating a new enterprise agreement and modifications to a fleet of new intercity trains it says is not yet safe to operate.
Premier Dominic Perrottet declared negotiations were over at the end of August, after a month of industrial action disrupting services across several days.
He threatened termination of an enterprise agreement if there was further industrial action.
RTBU NSW secretary Alex Claassens said the government and senior bureaucrats were "the ones responsible for this mess, they can now live with it".
It's a bit wet in Victoria today. Check the warnings in your area and look after yourselves.
Pressure mounts on Pacific campaign to recognise climate harm in international law
An alliance of activists, students and environmental groups have staged a flotilla outside of the United Nations headquarters in New York as part of a push by Pacific islands countries to have the International Court of Justice consider climate change.
The protesters called for a yes vote on a bid by Vanuatu for an International Court of Justice advisory opinion on climate change as part of a long-running campaign by Pacific nations.
The opinion would clarify legal questions related to climate change such as states' obligation to other countries and may have implications for climate change litigation.
Sepesa Rasili, senior campaigner at Greenpeace Australia Pacific, said in a statement the moment was a "wake up call for leaders and representatives" arriving at the UN General Assembly.
"Pacific youth have experienced untold devastation, and know the worst is yet to come," Rasili said. "Yet despite this, they are not looking to assign blame or create division. Instead, they are simply looking to protect the world's most vulnerable, for all of humanity, and our collective future."
Leaders should heed this message, and translate it to action. An ICJ advisory opinion will have real global impact, including cementing consensus on the scientific evidence of climate change, compelling more ambitious action under the Paris Agreement, and integrating human rights law and environmental law.

Voting yes to the ICJ advisory opinion resolution at the UN General Assembly is a simple act, but an incredibly powerful one. With a single vote, states can help ensure Pacific island nations have a greater voice on the international stage, and provide a legal framework for countries around the globe.
For more on the movement to recognise climate harm at law, read this story by Guardian Australia's Pacific editor Kate Lyons:
Minutes of the Reserve Bank of Australia's board meeting will be watched closely, with analysts on the lookout for more clues regarding future rate hikes, AAP reports.
The minutes, due on Tuesday, will provide some context for the fifth consecutive rate hike that was announced by the central bank on 6 September.
The RBA came under scrutiny last week, with governor Philip Lowe and senior staff grilled by a parliamentary committee about its aggressive rate-hiking strategy.
During the hearing, Dr Lowe said the board would likely be choosing between a 25 basis-point or 50 basis-point increase at the next rate decision in October.
Arrest made after fatal stabbing outside Brisbane gym
An alleged murderer has been arrested after a stabbing execution outside a Brisbane gym.
Queensland police arrested the 24-year-old man after five days on the run.
Levi Johnson was killed on Monday when two cars boxed in his vehicle and four men began smashing the windows.
Johnson escaped across the road but was caught by his attackers who stabbed him multiple times before he died at the scene.
Magnitude 2.2 earthquake near Melbourne
If you felt the earth shake in Melbourne this morning, it was a 2.2-magnitude earthquake.
The movement follows a 6.6-magnitude quake near Taiwan overnight.
Taiwan is regularly hit by earthquakes as the island lies near the junction of two tectonic plates. The island does not issue tsunami warnings unless a quake is more powerful than magnitude 7.0.
Some earthquakes of 6.0 or more can prove deadly, although much depends on where the quake strikes and at what depth.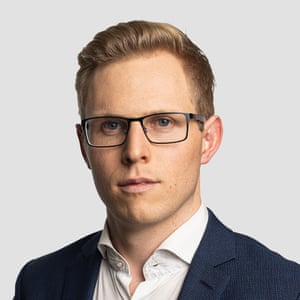 Kieran Pender
The Wollongong 2022 road world championships get underway
The UCI Road World Championships has just got underway in Wollongong this morning.
The elite women's time trial, a 34km race against the clock, is the opening event of a week-long festival of cycling.
Australia's Grace Brown is on the course now and is considered a medal contender, after winning gold in the discipline at the recent Commonwealth Games. Tasmania's Georgia Baker will ride later this morning.
The men are racing this afternoon – Lucas Plapp will be Australia's lone representative. Today's time trials are a significant step towards gender equality in cycling; it is the first time the world titles have been decided on the same day, across the same distance on the same course.
Albanese pays tribute to the Queen, remains unmoved on republic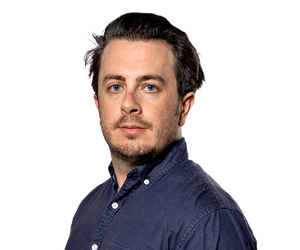 Josh Butler
Prime minister Anthony Albanese says it was a "great honour" to meet King Charles in London, but says he hasn't had cause to reconsider his views about the monarchy and its value to Australia.
Albanese is in the UK to attend Queen Elizabeth's funeral. Overnight (Australian time) he met new British PM Liz Truss, as well as having an audience with the King, after attending the Queen's coffin lying in state at Westminster Abbey and signing the condolence book.
At a press conference soon after, Albanese – a long-time supporter of an Australian republic – spoke warmly of his meetings.
I was given the honour of an audience with King Charles III at Buckingham Palace and that was a great honour and an opportunity for me to express my personal condolences to King Charles but also condolences on behalf of Australia.
Albanese called his visit to Westminster "a very emotional experience". He has been asked numerous times about a potential Australian republic, and has consistently said this is currently not the time for such a conversation.
However, asked at the press conference whether his week in London had led him to "revise any views that you have about the monarchy and its value to a society", Albanese also pushed back.
No, I think this is something that is about respect for Queen Elizabeth and her quite extraordinary service over 70 years, and that's something that I've admired and respected for a long period of time.
The PM said King Charles would be "always a welcome visitor" to Australia. Palace protocols dictate that meetings with the monarch are off-record, so Albanese didn't give any details of their conversation, other than to call it a "very good" chat.
Albanese was also asked about King Charles' environmental and climate advocacy.
I'm not going to discuss any of that detail either, as protocol requires. But King Charles, of course, has been on the record on his views over a very long period of time about environmental issues and including about climate change.
'My position hasn't changed': Marles on his support for the republican movement
Finally Marles is asked whether it is possible to reconcile the Queen's death and his support for the republican movement.
Irrespective of one's views about our constitutional arrangement, I think Australians have been really moved by what has occurred. There has been an outpouring of grief. I felt that myself. Partly it is about – this is around event that has never occurred in our lives before. There is a sense of history in the moment, and I think whenever that happens, we all kind of walk down an introspective path about our own life's journey, but it is about the person, about her, a person who has given a life of unparalleled service and wanting to show gratitude to that.
On the republican movement itself:
My position hasn't changed but we will have plenty of time to talk about all that. The other point to make is that the foundational questions in our country matter. The ones we are focused on in this term of government, the Uluru Statement from the Heart, voice to parliament, that's what the Albanese government will be focusing on in this term, and we will have plenty of time to do all of that.

Right now, though, I think it is fair that we acknowledge the life of a genuinely remarkable human being and a person who has given an enormous amount of to our nation.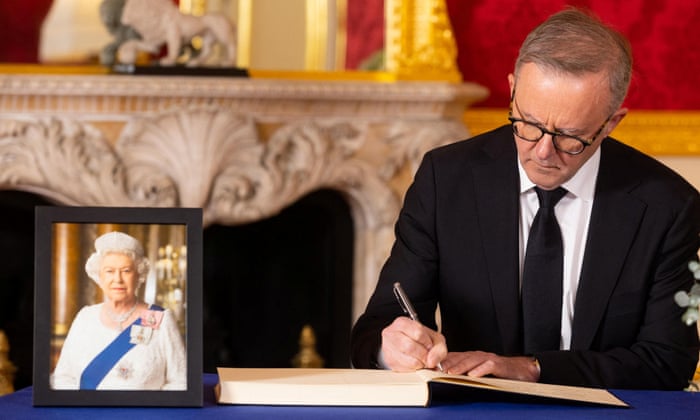 Australian submarine design 'not a competition' between US and UK
There are a series of questions about interoperability of hardware to enable the Australian defence forces to be able to use and swap military material with their counterparts in the US. Speers asks if this raises questions about the type of submarine that is going to be developed, but Marles stresses the design – yet to be determined – is "not a competition" between US and UK options.
It is important not to see the whole process when it comes to submarines as some kind of competition between the United States and the United Kingdom because it genuinely isn't. Both countries are working very closely with us to help us acquire this capability. To walk down this path is a huge step for our nation.
Marles on Aukus and Australia's efforts to obtain nuclear subs
Marles:
The most important platform that can have in shaping its strategic circumstances in building strategic space for diplomacy, for trade, is a long-range capable submarine, and what is absolutely clear, as we move into the 2030s and 2040s, that will require that submarine to be nuclear-powered.

The recharging of batteries in a conventional submarine and what is required there is going to make that capability increasingly redundant as we get into the 2030s, and 2040s, as important as the Collins class submarines have been for us up to this point of time.

We are committed to acquiring this capability.